Brands
The Leaders of Design & Innovation
Meet the companies that we call partners. They form the foundation of our product specifications thanks in part to their best-in-class performance, breadth of product offering and ongoing technological innovation.
What started out as a response to a growing market trend, Access Networks evolved into the largest residential managed network service provider in America. After discovering that over-the-counter networking devices were no longer meeting the demands of the connected lifestyle, founder Hagai Feiner started Access Networks in 2003 to revolutionize connectivity in the home with intuitive enterprise-grade solutions. Today, Access Networks is the leading provider of advanced, enterprise-grade, plug-and-play networking solutions for the automated home. As the only residential network provider that uses true enterprise-grade networking equipment, Access Networks is dedicated to designing, deploying and maintaining a sophisticated and custom-tailored network that stays invisible while ensuring premium performance, reliability and unwavering security around the clock.
Alarm.com is trusted by millions for better home and business security, intelligent automation and dependable service. When founded in 2000, Alarm.com launched the first interactive home security solution, offering homeowners a revolutionary way to manage and monitor their security systems from anywhere. Since then, Alarm.com has led the market with new smart home and business capabilities, enabling the control and automation of thermostats, locks, lights and more. Headquartered in Fairfax, Virginia, Alarm.com offers solutions ranging from interactive home and business security to advanced video surveillance and monitoring, remote access control and home automation. With Alarm.com, stay connected to what matters most to you: your family, home and business.
Over the last 40 years, Audio Control has focused on "making good sound great" through their lines of amplifiers, receivers and preamplifiers. Unlike some other audiophile brands on the market, Audio Control does not just focus on amped-up specs. Their goal is to improve customers' lives by delivered stunning audio the lets them recreate a concert hall or theater environment in their own home. As the heart of your home theater, their receivers deliver fully immersive sound as well as 4K video resolution. Knowing how important it is to get high-performance audio beyond a few dedicated rooms, they have a full line of multi-zone amplifiers that deliver excellence throughout your house. Even outdoor applications aren't out of the question with their powerful line of 70-volt amplifiers.
Enhance your home audio-video quality with AudioQuest's line of speaker and HDMI cables. Drawing on decades of experience, AudioQuest cables deliver unprecedented value and performance for all applications. Audiophiles often like to gauge quality based on ear tests, but at AudioQuest, all cables are developed and judged using a scientific process. Every piece of your home entertainment system matters, but cables often get left out of the equation. Opting for low-end cables will result in damage to your components and dull or irritating sound. AudioQuest is dedicated to bridging the space between your sources and speakers with little to no effect on the signal. AudioQuest cables reduce signal deterioration and coloration for a result true to the original without losing any important details along the way.
What started as an innovative radio manufacturer in 1934, Barco is now an international name in high-end home theater projectors. The Belgian-born technology company offers three ranges of home cinema projectors to meet the unique needs of consumers and home environments. Designed for film enthusiasts who crave top-tier motion picture reproduction, Barco home theater projectors feature specially crafted lenses, optics and advanced electronics processing to promise a flawless representation of every moment of your favorite content. Employing the same cutting-edge technology moviemakers use to film, Barco projectors delight even the most discerning cinephiles.
Universally loved by audiophiles and recording professionals, Bowers & Wilkins is believed by many to offer the best loudspeakers in the world. They are so synonymous with luxury sound that they're the official audio solution for all Jaguar car models. For more than 50 years, they have been the standard bearers in the hi-fi world through handcrafted speakers, superior grade materials and industry-leading audio engineering. They introduced the use of Kevlar and Diamond for the ultimate in pure, striking sound reproduction, and their audio engineering delivers expansive depth and clarity. Despite being best known for their flagship loudspeakers, B&W now offers the same exacting audio standard to their line of headphones, subwoofers, architectural speakers and even their stylish wireless speakers.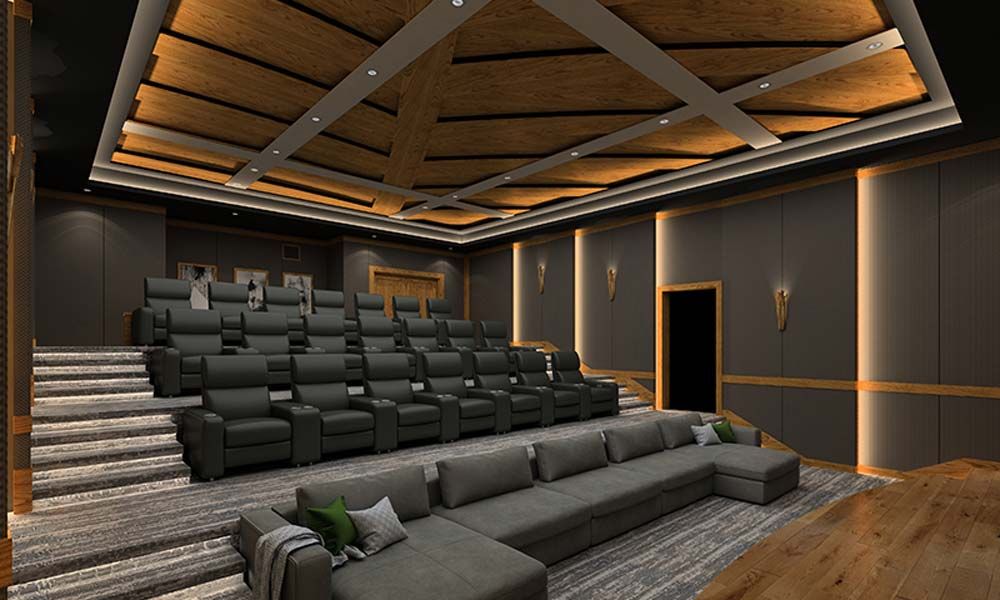 In 1998, Michael Murphy began CinemaTech's journey in Texas with a single purpose: creating the perfect home theater seating. This was the beginning of the luxury home cinema seating industry, and the company expanded its services to home theater design in 2003. Having acquired Acoustic Room Systems in 2005, the company now offers dedicated seating and acoustics along with its design services. Their award-winning seating solutions include incliners and loungers featuring the most beautiful leather and acoustic fabrics. Meanwhile, acoustic treatments manage absorption and reflection to create a dream sonic environment for movie lovers and audiophiles alike without affecting the room's decor. Each CinemaTech project strives to strike the perfect balance between aesthetics and performance while offering easy-to-use turnkey solutions for its clients.
Coastal Source stands for something radically different from mass-marketed landscape lighting and outdoor audio products. Their mindset is "do it once, do it right." Rather than creating solutions that inevitably fail over time, Coastal Source designs and engineers high-end landscape lighting and outdoor audio solutions that are created for superior function and durability—even in the harsh salt spray of coastal environments. Founded in 2003 and headquartered in New Jersey, Coastal Source combines more than 50 years of hands-on industry experience to deliver a patented landscape lighting system that features bullet lights, path lights, well lights, step lights and more that withstand the elements and enhance pleasure, safety and curb appeal. Their high-fidelity outdoor audio products feature 2-way and 3-way ellipse bollards, modular bullet speakers and concealed rock speakers that deliver rich, full coverage while blending into your gardens and foliage.
Experience a revolutionary low voltage lighting system that not only elevates the look and feel of your spaces but enhances the lifestyle, productivity and wellness of those it touches. Founded in 2016 and headquartered in Montreal, Colorbeam strives to deliver a better lighting experience for everyone in the residential, commercial and hospitality markets with their vast line of tunable, dimmable indoor and outdoor lighting products. Colorbeam's innovative proprietary low voltage technology drives the beauty and simplicity of their wide portfolio of flawlessly dynamic lighting fixtures that are unrivaled in quality and effortless to control.
Bring your smart home dreams to fruition with one-touch control of your entire estate from an intuitive touch panel, custom-engraved keypad, smartphone or by voice activation. Crestron automation and control reveals your home or business' true potential with programmed scenes that instantly adjust your lights, shades, thermostat, audiovisual electronics, security system and more—all at the lift of a finger. Custom-tailored for any home, workplace and lifestyle, Crestron is truly the pinnacle of invisible comfort and convenience and takes pride in designing and manufacturing their products in America.
Enjoy high-end seating for home theaters, lounges, executive offices and more with luxury seating products from Fortress. For more than 75 years, Fortress has been designing high-quality seating for executives and boardrooms but entered the home theater market in the 1990s to fill a significant gap in custom-made home theater seating. Fortress believes seating is personal, and that is why they build each chair to order. Choose from over 30 standard models or receive custom-designed seating that precisely maximizes the space, comfort and beauty of your theater room. Whether you desire traditional theater chairs, loungers, chaises, sofas or sectionals, Fortress can perfectly tailor your vision for both form and function to bring your dream theater seating to life.
A market leader in innovative display mounting solutions, engineering company Future Automation specializes in mechanisms that conceal and reveal displays in modern smart homes, commercial spaces and marine applications. Their unique product line combines functionality with aesthetic appeal to offer greater flexibility for any vision. Future Automation's in-house design team crafts bespoke solutions for projects small and large, with a vast product line that includes lifts, wall mounts, ceiling mounts, table mounts, projector drops, moving panel mechanisms and more that can be seamlessly integrated into any AV installation. Sculpt the design you desire with beautiful, automated AV lifts and mounts from Future Automation.
JL Audio is a consumer and professional audio manufacturer focused on delivering unique engineering, superior quality and high-performance audio to sound enthusiasts around the world. JL Audio was founded in 1975 on the belief that great audio has real value and that their discerning customers can "tell the difference." The Florida-based company is known as one of the pioneers of the car audio industry and is also active in the marine, home, mobile and powersports markets. JL Audio is particularly famous for their subwoofers, which have received the highest accolades from audio reviewers and demanding audiophiles around the world and feature proprietary, patented technologies that require unique assembly techniques. Nearly all JL Audio speaker systems are built in the United States and overseen by production and logistics professionals who make sure every product maintains the company's high-quality standards.
With over ten thousand independent and major studio motion picture films, TV series, concerts and documentaries available, Kaleidescape serves homeowners the most pristine menu of 4K Ultra HD entertainment to be enjoyed from the comfort of their couches. Kaleidescape combines movie players and servers with online selection and delivery of the highest quality media, taking the top spot for must-have content sources that power your home theater or media room. Browse, select and purchase any content you desire, and upload your physical media to be stored digitally with the rest of your entertainment. The intuitive interface is designed for graceful navigation of your selections and settings so you never have to take your eyes off the screen.
Enjoy personalized, American-made speakers and sound sculptures that look as beautiful as they sound when you choose Leon. Each audio solution is an elegant balance of stunning design and innovative technology, delicately manufactured in a way that helps reshape the way people experience culture. The Michigan-based manufacturer is widely known for their award-winning sound and unrivaled level of customization, building speakers by hand and to your exact specifications since 1995. Choose from their collection of custom soundbars, ceiling and wall speakers, outdoor speakers, and even elevate the design of your TV displays with Leon's handcrafted media décor products.
Inventors of the solid-state dimmer in 1959 and now holders of 2,700 worldwide patents, Lutron has expanded their product offering to more than 15,000 products. Lutron makes it possible to craft the perfect atmosphere at home or in the workplace to complement your day-to-night activities with personalized lighting and shading control for enhanced comfort and productivity. Recall your favorite settings from a master keypad or remote to easily transform your environment with just a tap or set your lights and shades to adjust on their own so you can focus on the activity at hand. From the workplace to the home, Lutron provides sophisticated solutions for custom lighting and shading that operate seamlessly at your command.
Origin Acoustics leads the industry in high-fidelity architectural speaker solutions that redefine your auditory experience. Enjoy pristine sound from any angle in your home or business with Origin's in-wall and in-ceiling speakers that intelligently pivot to focus the sound at the designated listening area. Installation is seamless, accomplishing sightless audio from discreet grilles that blend into your décor and deliver astonishing sonic performance when you want it. From your bedroom to your yacht and even the outdoors, Origin has a delicately crafted speaker system for any place you desire.
As the first home automation company to embrace mobile technology for control inside and outside the home, Savant is a leader in innovation. The brand helps to cultivate the ultimate luxury lifestyle with personalized control of your entire home, business or yacht from an intuitive mobile app, high-resolution touchscreen, elegant remote or by voice activation. Savant offers any user the unparalleled convenience of controlling your lighting, climate, entertainment, pool and spa, security and more from a single platform no matter where you are. Set distinctive scenes that mold to your every mood and transform your home into a coveted entertainment hotspot at the touch of a button. Whatever you imagine, Savant can help make it a reality.
Elevate your expectations of home entertainment with Samsung's most innovative and advanced range of televisions that offer an impeccable visual and auditory experience for film and gaming enthusiasts alike. Samsung's proprietary Quantum Processor is the mastermind behind their unrivaled QLED 4K and 8K TVs that display a depth of detail, contrast and realism never seen before. Even when not in use, Samsung displays add beauty to your home by transforming into framed artwork or blending into the decorative pattern on your wall, elevating your space while turned on and off.
Unleash the full potential of your home theater with Screen Innovation's masterful indoor and outdoor screen models. Revolutionize your viewing experience with ambient light rejecting screens so you can enjoy your favorite films even during the day. Embrace the big screen experience in a stylish environment with their sleek, zero edge models that fit seamlessly in any space. Now you can even take your screen on the go with the Solo line model featuring a portable cassette and a two-year battery life. Tiles and rear projection screens, meanwhile, allow unique and engaging digital signage solutions for businesses. Recently, Screen Innovations has also released motorized shades for indoor and outdoor use in a wide range of models and colors.
Revel in the perfect harmony of design and technology with Séura's award-winning line of smart mirrors and TV solutions for your indoor and outdoor spaces. Improve your morning routine with Séura SMART technology that incorporates seamlessly into a custom vanity for total home control at the touch of your bathroom mirror. Elevate your living room with intelligent 4K TV displays that disguise as beautifully framed mirrors when turned off. And see yourself in the best possible light with elegantly lighted mirrors that illuminate your bathrooms without the need for cluttered sconces and light fixtures. Certified as a Woman-owned Business Enterprise and with all products manufactured in Green Bay, Wisconsin, all Séura products get to wear the badge of Made in the USA by American craftsman.
Delight your senses with professional-grade home entertainment solutions designed to harmonize both picture and sound for a breathtaking, true-to-life experience. Unprecedented contrast, color and realism are made possible with Sony's proprietary technologies that also lead in pixel-by-pixel detail for texture you can practically feel. Whether you're outfitting a multi-purpose media room or a dedicated private cinema, Sony's line of premium 4K HDR projectors and TV displays, AV receivers and high-resolution speakers work in tandem to craft the immersive experience intended by film and video game creators.
A leader in the projection screen industry, Stewart Filmscreen Corporation combines elite function, value and quality in all of their products. For 70 years, their extreme attention to detail has resulted in some of the best display solutions for home theaters, digital signage and conference rooms. The designers at Stewart Filmscreen Corporation reject the one-size-fits-all mentality. Whether you need to adapt your screen to ambient lighting, rear projection or an office workflow, Stewart Filmscreen Corporation delivers the ideal model for any application. Their display inventory includes 25 different screen materials, custom-built for each installation. Their brightness and color uniformity make them the go-to company for post-production work by major movie companies and the only screen manufacturer company with two Academy Awards.
Founded by former Apple engineer Robert Pera in 2005, Ubiquiti is committed to connecting everyone to everything, everywhere. Ubiquiti develops high-performance networking product platforms ranging from long-range wireless equipment to reliable home routers, as well as software and internet services that transform organizations for the internet economy. A global leader in managed wi-fi systems, Ubiquiti networking solutions excel even in the most demanding of environments. Whether you're interested in high-capacity distributed internet access, unified IT solutions or next-gen consumer electronics for the home, you can expect superior performance, clever mechanical design and ease of use every time. Ubiquiti is headquartered in NYC but has several office locations all around the world.
X LED SYSTEMS' founding members have more than 28 years of industry experience and have provided LED display solutions and consultation to some of the world's most renowned designers, architects, integrators, engineers and technical directors. They continuously work with clients pushing the boundaries of LED technology advances and innovation, allowing them to create some of the most compelling projects and entertainment environments in the world. XLED SYSTEMS provide solutions ranging from indoor, outdoor, creative, transparent, lightweight, flexible, high/Low resolution, to impactful large-scale media facades.
Start Your Journey to Smarter Living
Connect with us to learn more about how these industry-leading brands work together to create your dream smart home or business.