Let Your Home Shine with These Landscape Lighting Tips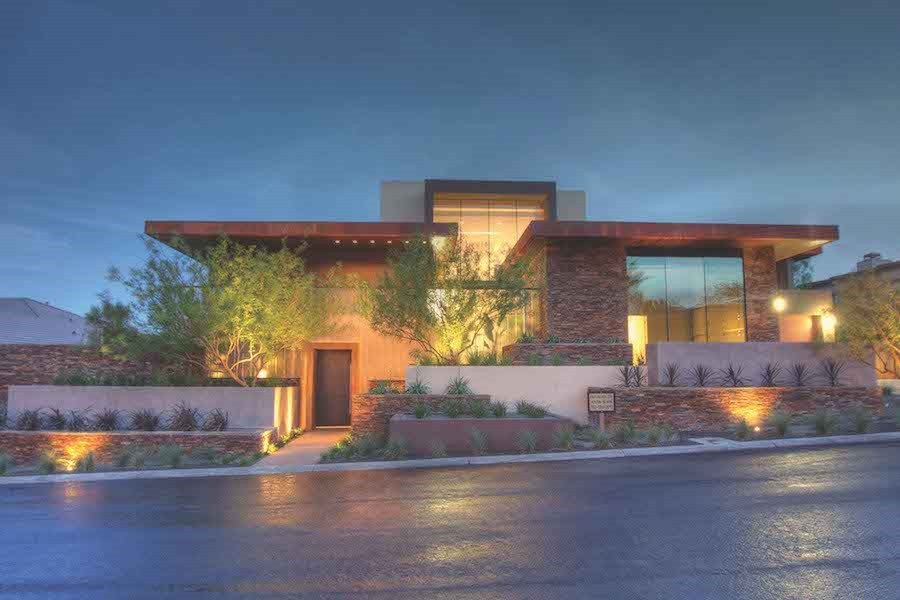 Highlight Your Las Vegas House's Beauty with Sophisticated Lighting Solutions 
The Louvre, Big Ben, the Empire State Building—what do these landmarks have in common besides being famous works of architecture? Each is illuminated all night long by spotlights and landscape lights, drawing attention to their exterior's beauty. Your home may not have tourists flocking to it like the Strip downtown, but it too deserves to show off its appearance to the neighborhood. Landscape lighting is a tasteful way to accentuate your property, not to mention brighten pathways to see better and ward off trespassers.
But landscape lighting is more than plugging in bulbs outdoors. There are tried-and-true strategies that will make your house look its best. If you're interested in adding exterior lighting to your Las Vegas, Nevada–area home, then continue reading for our tips below.
SEE ALSO: How to Enhance Your Home's Ambience & Safety with Smart Lighting
Select Focal Points
First, consider which areas of your home should be emphasized. Do you have a charming stone wall, handsome trees, or a water fountain? Maybe you'll want to highlight your front steps or architectural features, like dormers and balconies. If you have any statues or lawn ornaments, plan to add that into your lighting design as well. You shouldn't merely bathe the walls in light—there are creative ways to make the best elements stand out.  
Choose the Right Fixtures
Not all landscape lighting models perform the same function. To create welcoming passages for guests, use designated path and area lights on your driveway or walkways. For dramatic up-lighting effects on the walls or subtle down-lighting moods, use accent lights, which look like small spotlights. You can also aim accent lights on tree trunks, porch columns, eaves, and garden structures to draw attention to specific sights.
Another strategy is to 'wall-wash' an even flood of light with a square-shaped spotlight onto any wall, fence, or façade. This could be used to emphasize one specific area for compelling contrast against smaller floodlit shapes. In-ground lights are perfect for pathways down a long driveway or to brighten a tall tree. And indicator lights, which you'll find installed onto a surface, can highlight edges of a deck, porch, or stairs.  
Bring Your Design to Life
Before installing, there are a few system options to choose from. You can opt for low-voltage lights which operate at 12 volts, are energy-efficient, and easy to adjust. With a low-voltage system, you will likely have several runs extending from one transformer to all of your lighting fixtures. From dry to wet areas, your entire system can operate from just one source. Be sure to leave room for expansion in case you want to add more lights later on. If you're working with an integrator, they can incorporate the landscape lighting into a smart control system, so you can easily set a timer and turn lights on and off from one touch of a button.
There are two other landscape lighting methods you can consider. Solar lights are an option, which requires no wiring but must be in the full sun to provide illumination. Or you could use line-voltage lighting, which operates at 120 volts, the same as the appliances in your home. Installing line-voltage lights requires a conduit to protect wires and an electrical junction box, which must be hardwired into your electrical system. For this reason, we recommend a low-voltage LED system instead.
Ready to bring landscape lighting to your Las Vegas home? Partner with Eagle Sentry to build a beautiful system today. Call us at (702) 736-8880 or fill out our online form here.
Stay Informed
When you subscribe to the blog, we will send you an e-mail when there are new updates on the site so you wouldn't miss them.