What Screen and Audio Solutions Are Best for Your Home Cinema?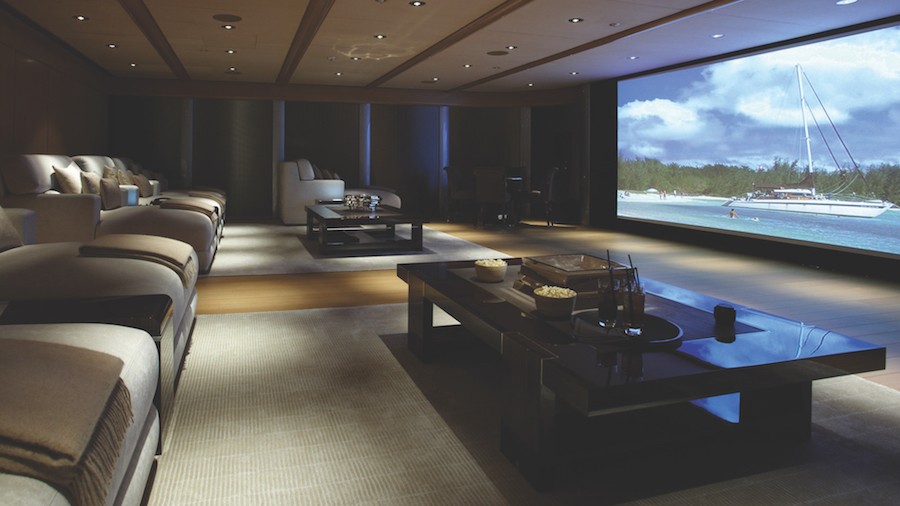 Determine Your Options for a Custom Home Theater  
There's something magical about going to the movies—the pitch-dark theater, the vast screen, and the excitement of seeing something new. But there are drawbacks: disruptive theatergoers chatting throughout the film; running to the bathroom and missing important scenes; or getting stuck in a seat too close or too far away from the screen.
Why not bring the allure of cinema into your home with a custom home theater? If you have extra space or are starting a renovation soon, consider the following tips to build the best audio and video solutions in your Las Vegas, NV home.
SEE ALSO: Swap Your Living Room for the Backyard with Outdoor Entertainment
4K Projectors & TVs
The first thing you'll need in a private theater is the lifelike definition that makes going to the cinema worthwhile. You may already own an HD television with sharp image quality, but 1080p starts to lose value on any screen larger than 65 inches. For a theater-sized display, you'll have a better experience with 4K resolution, which delivers four times the pixel resolution as regular HD does.
There are plenty of 4K Ultra HD TVs available, like the Sony MASTER Series, which offer bolder colors and deeper blacks ranging from 55 inches all the way up to 98 inches. If you'd prefer a projector screen to raise and lower, Epson projectors are optimized for 4K and upscale non-4K content. Many home theater receivers are also built with 4K pass-through or video upscaling capability, so you can stream your favorite shows and enjoy Ultra HD Blu-ray as it's meant to be seen. 
Surround Sound
Stunning visuals will only take you so far if you can hardly hear a scene's dialogue. For superior audio in your home theater, don't skimp on a surround sound system. You may be wondering—is it really any better than assembling regular speakers around the room? Short answer: yes!
The difference lies in the receiver, which distributes sound throughout the room. Deep bass sounds are sent to the subwoofer, and dialogue is emitted from the center channel speaker. Audio sounds more realistic when it doesn't sound like it's coming from the same location. So rather than use your TV's built-in audio, consider a surround sound system from a trusted manufacturer like Bowers & Wilkins. The rich and detailed sound will take you out of your home and right into the scenes on screen.
Smart Control
Elevate your home theater to the next level by incorporating the screen, speakers, and room's lighting into a control system like Savant. Ready for showtime? In just a few swipes on your favorite device, you can instantly lower the screen, turn on the projector, select the movie, lower blinds, and turn off the room's lights. With a premade "Movie Mode" setting, you can assemble your room for screen time in one instance. A smart control system simplifies setup, so you'll be inclined to use the cinema more often.
Ready to start your custom home theater installation? Eagle Sentry is here to help. Give us a call at (702) 736-8880 or fill out our contact form here. We'll be in touch soon!
Stay Informed
When you subscribe to the blog, we will send you an e-mail when there are new updates on the site so you wouldn't miss them.